A Lawn Care Business Guidebook, Estimating Software, and Video Training package
to help you start (and expand) a
Lawn Care & Landscaping Business.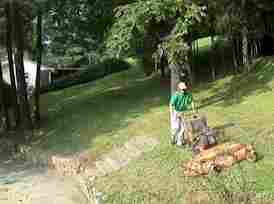 There is nothing better than working outside at your own pace and getting paid lots of money for it.
Have you ever wanted to operate a successful small or medium sized
Lawn Care and Landscaping Business?

OUR EXPERIENCE
Our company has been in the lawn care business over 17 years.
We started with a small push lawn mower and a cheap weedeater.
Within 1 year we had upgraded to commercial equipment.
We got big lawn care contracts and grew our business rapidly.

We were lucky because during these 17 years,
we have seen hundreds of people try to start lawn care businesses. Many of those businesses fail
because the business owners do not know how to properly run their lawn care businesses.

TOO MANY PEOPLE FAIL
Hating to see so many people fail, we developed this comprehensive
business package including guidebooks, software, and video training guides.
This package is designed specifically for small and mid-sized lawn care business owners who
want to grow their business and make lots more money this coming season.


The Program will help you:
start and organize your business correctly.

learn which type of lawn care equipment to buy.

learn how much to charge your customers (never underbid again).

learn how to bid large-scale mowing contracts (apartment complexes, malls, and industrial sites).
LAWN EQUIPMENT GUIDEBOOK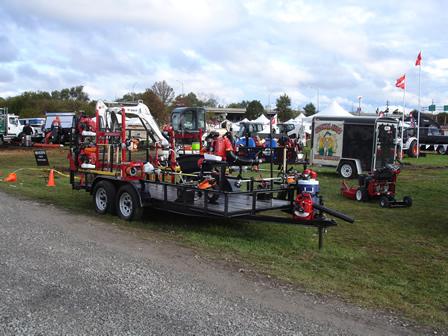 The equipment guidebook shows you how to buy the best equipment for your business.


The program includes:
...a full series of guidebooks explaining practically everything you could want to know about running a lawn care business. These manuals are in actual book form...not an "ebook."

...a Frequently Asked Questions (FAQ) section covering the most asked questions of running a lawn care business.

...start up guidance and a 30 day start up checklist.

...work techniques showing you how to do the work better, faster, and more efficiently.

...complete lawn care marketing guidebook with step-by-step advertising examples

...lawn care estimating software. (Helps you price your jobs so you know how much to charge.)

...lawn care video tutorial and video training guides.

...customizable business letters and contact forms.

...customer agreement (contract) examples. Yearly contracts are great business tools.

...a full-scale bidding tutorial to help you bid large jobs such as government grass cutting contracts.

...bidding and estimating worksheets.

...forms and worksheets to help with your bookkeeping.

...equipment purchasers guidebook and equipment reviews.

...support. If you have business related questions after you buy our guidebook package, let us know. We are involved in the lawn care industry everyday and we are happy to help you.
=======================================================================
These professionally produce guidebooks, estimating software, and video training guides are exactly what you need to
get you started with your own successful lawn care business.
UPDATED FOR 2016
The normal price for the comprehensive lawn care business package is $49.95.
We're running a special price right now for only
$49.95 + $4.00 Shipping
The program is rushed to you via USPS Priority Mail.
Everything described above is shipped to you on 2 CD Rom computer disks and
the full series of Guidebooks are in printed book format (NOT AN E-BOOK).
$53.95 TOTAL PRICE (no hidden fees, nothing more to pay)

Three ways to order:
Secure online payment using
Credit Card or Paypal Account.

$49.95 +$4.00 S&H
Click "Add to Cart" below.


Any questions or problems ordering?
CALL US:
786-309-5296



Pay through the Mail with
Check or Money Order

POSTAL MONEY ORDERS (get them at your post office) are greatly preferred.
Checks are held to clear.


Send $49.95 +$4.00 S&H to:

Harper Companies
c/o Summer101
PO Box 4772
Chattanooga, TN 37405

Questions about ordering? 786-309-5296


Order by Telephone:
We can take your order
over the phone:

CALL 786-309-5296

If there is no answer, we might be on a job. Leave a quick message and one of our team will call you right back. Or you can email your phone number and we'll call you:

LawnCareBusiness@gmail.com

Terms of Use Privacy Policy Contact Us Lawn Care Articles We Dig Google

Lawn Care Business trade names are trademarks of their respective companies. We review a wide variety of
Lawn Care and Landscaping equipment. To keep our reviews independent, we are not affiliated with any
equipment manufacturer and we do not sell equipment.

Thank you for looking...it's a great time to be in the Lawn Care Business.

Copyright 2016 LawnCareCompanies.com
All rights reserved.